WHATEVER HAPPENED TO CULTURAL IMPERIALISM?
If, as the Chinese Communist Party insists, the imperialist West has never given up on its plot to dominate and humiliate China (and uses Tibet as a weapon to weaken China), then why has China Post just issued stamps featuring Mickey Mouse, to celebrate the opening of Disneyworld in Shanghai? http://news.xinhuanet.com/english/photo/2016-06/17/c_135443856.htm?utm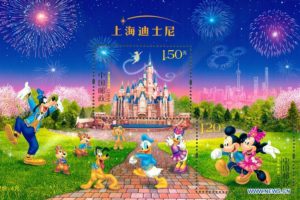 Disney worked extremely hard to cravenly apologise to China for having financed the making of Scorsese's Kundun, telling the Dalai Lama's life story, in 1997. The New York Times reminds us what happened next:
"By the time of the "Kundun" debacle, the demand [in China] was clearly there. Mr. Eisner just needed to undo the damage.
"Disney hired former Secretary of State Henry Kissinger and mounted an intense lobbying effort. In October 1998, Mr. Eisner met Zhu Rongji, who had just been named prime minister, at China's leadership compound in Beijing. Mr. Eisner apologized for "Kundun," calling it a "stupid mistake," according to a transcript of the meeting.
"This film was a form of insult to our friends, but other than journalists, very few people in the world ever saw it," Mr. Eisner said during the meeting. ("Kundun" bombed, taking in just $5.7 million against a production budget of about $30 million.)
"Mr. Eisner said the company had learned a lesson. And he introduced Mr. Iger, then Disney's international president, as the person who would carry on negotiations for a theme park. The Chinese prime minister responded favorably. Land in Shanghai, he said, had already been set aside.
"And just like that, the door to China started to reopen."
http://www.nytimes.com/2016/06/15/business/international/china-disney.html?ref=asia&utm
Nationalist Chinese Netizens Are Already Turning on Disney Shanghai
To them, the just-opened theme park is yet another example of cultural imperialism.
http://foreignpolicy.com/2016/06/16/china-nationalists-disney-shanghai-wang-jianlin-wanda-mickey/?utm
After nearly two decades of negotiations, Disney's $5.5 billion theme park in the glitzy financial capital of Shanghai finally opened on June 16. The planned grand opening featured concerts in front of the world's largest Disneyland castle, rollout of merchandise like Disney Princess chopsticks and a Mickey Mouse hat adorned with Swarovski crystal, and princess makeovers for young Chinese girls. Disney hopes to attract 11 million visitors annually, with ticket prices ranging from $56 to $76. But the quintessential American brand has already attracted the ire of China's top real estate tycoon — and its outspoken nationalist netizens.
Disney has bent over backwards to accommodate Chinese government demands in exchange for access to the Chinese market, including creating new rides and dropping its demands for a Disney Channel in China. Negotiations to open the park were extensive, and took decades. But the CEO of Disney's chief domestic rival, Dalian Wanda Group, was not impressed.
"One tiger is no match for a pack of wolves — Shanghai has one Disney, while Wanda, across the nation, will open 15 to 20" parks, Wang Jianlin said during a May 24 interview with state broadcaster China Central Television.
Wang's salvo has played well among China's nationalist web users. Amid rising Chinese nationalism, some in China have come to see purchasing local brands instead of foreign ones as an act of patriotism. Theme parks may be the next battlefield. "No matter what, with regard to Disney, I absolutely support Wang Jianlin," wrote a user in a popular comment on microblogging platform Weibo. "I do not plan to go to Disney."
Some web commenters have said they resent the global dominance of American culture, often exported by the massive U.S. film and entertainment industry. "The era in which American culture commands the globe is slowly changing," wrote one Weibo user. "Wait and see. Once China becomes strong, it will be Chinese culture that is the world's mainstream culture." Anotheraccused Disney of being "boring," adding, "China also has a lot of good stories. Why has no one made a theme park based on [martial arts novelist] Jin Yong or [martial arts television drama] Chinese Paladin?"
While many in the United States believe that Chinese regulators have unfairly targeted U.S. businesses, many in China view U.S. companies as corporate behemoths exercising outsized influence over China's economy and society. Disney's global empire, in this view, is only the latest example. "Apple flaunts its wealth in China, but China's Huawei and high-speed rail are blocked from the United States," wrote one Weibo user in a June 14 comment that garnered more than 6,000 likes. Telecom giant Huawei has been blocked by U.S. officials from bidding on government contracts due to national security concerns, and a U.S. company recently canceled a contract with the Chinese to build a high-speed rail line from Los Angeles to Las Vegas. The user concluded, "Why should we give Disney an opportunity? This land belongs to the Chinese!"
This is not the first time Chinese netizens have complained about the new resort. Its sky-high food prices — about $5 for a pork bun, compared to the 50 cents on the street in Shanghai — caused indignation among tourists and web users about one week before the grand opening.
For years, Disney's entry into the Chinese market was beset by government interference, rooted in part in concerns about cultural imperialism. China banned Disney films in 1997, after Disney released a movie about the Dalai Lama, the exiled Tibetan spiritual leader that Beijing insists is a "splittist." Negotiations for the eventual opening of a theme park only began after then-CEO Michael Eisner apologized for that film. A decade of bargaining led nowhere, however, until current CEO Robert Iger reportedly made several major concessions. These included giving up hope for a Chinese entrée for the Disney Channel, long a cornerstone of the company's branding strategy. Chinese officials also wanted the park to have its own unique rides, rather than copies of popular rides Stateside. And Disney was careful to include localized attractions, such as the Wandering Moon Teahouse, which features Chinese regional cuisines. Company spokespeople have sought to present the park as "authentically Disney, distinctly Chinese."
After making his fortune several times over in China's booming real estate business, Wang, one of the richest men in Asia, has set his sights on the country's burgeoning entertainment industry. Wanda is China's largest real estate conglomerate, and under Wang's leadership it has also become the world's largest movie theater operator. Some project China's box office to become the world's largest within a few years, and Wang aims to dominate domestic entertainment as well as the swiftly growing $610 dollar tourism industry. On May 28, just under three weeks before Disney's grand opening, Wanda opened its first theme park, the $3.2 billion Nanchang Wanda City in the southeastern province of Jiangxi. It's the first of 15 planned projects.
To be sure, many Chinese do not share the same nationalist sentiments as some outspoken web users. According to the Los Angeles Times, tickets for the first few weeks after the park's opening have been sold out for months. Numerous netizens reminisced about growing up with Mickey Mouse and Donald Duck. Others seemed bullish on the U.S. company. "Disney has been around for almost 100 years," wrote one Weibo user. "Will Wanda still exist in 100 years?"