BLOG 3 OF 3 ON CHINA'S RENEWED PLANS FOR HYDRODAMS AND POWER GRIDS SPANNING TIBET AUTONOMOUS REGION
In the first years of this century electricity demand in China grew annually by as much as 15 per cent. A world record. No matter how many coal-fired, nuclear and later, gas-fired power stations were built, it was never enough. The power plant builders were in demand, and hydropower was also scheduled for major expansion, to not only keep pace with coal but actually increase its share of total supply.
Those were boom years for China's dam builders and power grid builders, when Tibet was thoroughly mapped for its hydro potential. Tibet's day would come.
But the boom years are over, as China now prides itself on reducing energy intensity, the amount of energy consumed per unit of economic output, which was far above the average in other manufacturing countries. Now the dam and grid builders are hungry for new markets: where better than Tibet?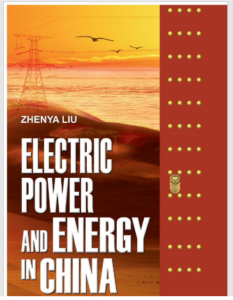 WHO ARE CHINA'S DAM BUILDERS?
Which of these potential hydro dams will actually be built? Which corporate builders will be attracted to TAR by the NDRC's new incentives?
If NDRC's June 2018 directive to the TAR government  does translate into action, on the ground, in TAR, with engineers and construction crews swarming to remote valleys and lakes to build hydro dams, we can readily predict who the builders will be, because this is a contract construction market restricted to a few players, all of them big state-owned corporations, used to operating worldwide.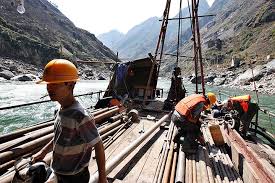 We know their preferred mode of operation, which is no longer to build the dam, collect their contracted payment and leave. These days they prefer the BOT model, meaning build, operate and eventually transfer the ownership of the dam back to the TAR government, but only after operating the dam and collecting payments for the electricity generated, for the first two or three decades of the hydro dam's life. Not only is that a way to increase profits in the long run, it also enables the ultimate owner of the land and the dam –the party-state- to get the dam built without having to pay upfront for all the construction costs. The BOT model means more dams get built, not delayed by governments restricted by having insufficient capital to invest, in a time when speculative investment in urban real estate is more quickly profitable for local governments.
The BOT model allows the builder to also operate the hydro dam for decades, the first decades being the most profitable, often with a price for electricity locked into the contract, at a time when the dam is at its most productive, before it later fills with silt, cracks or suffers an earthquake which may well be induced by the sheer weight of impounded water onto the faults below.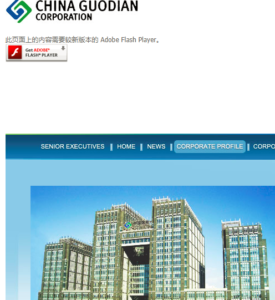 Not only are the dam builders and power grid builders some of China's biggest corporations, but among the biggest worldwide. This makes them easy to track. Any business news website –Reuters Business, Bloomberg or CNBC for example- will quickly tell you where in the world these giant corporations are sealing their next big deal, which may well be in a country where Tibetan voices are heard.
Hydro is a global industry, with industry newsletters that tell you about the latest deals. Many of these corporations have floated shares on a Chinese stock exchange, which requires them to regularly report their plans and results, especially anything risky that might affect their stock price, and that includes investing in Tibet.
These corporations are diligently tracked by the NGO International Rivers. Here is a sketch of those big players:
"PowerChina Resources and Sinohydro have merged and are now wholly owned by Power Construction Corporation of China中国电建. Sinohydro is mainly a project contractor, undertaking construction contracts, while PowerChina Resources focuses on constuction and operation, undertaking BOT contracts in other countries. During the ten-year period reviewed, Sinohydro comes out as the Chinese company that has built the most hydropower capacity (48,828 MW) and largest number of hydropower projects (118 projects). For 28 of these projects, Sinohydro collaborated with Chinese BOT developers. PowerChina Resources is involved in BOT projects. It completed Kamchay (193 MW) in Cambodia, and now is building the Nam Ou Cascade (1,156 MW) in Laos and Busanga project (240 MW) in the Democratic Republic of Congo. Projects in the pipeline for PowerChina Resources include Lower Sesan 3 in Cambodia, Pak Lay in Laos, and Lasolo in Indonesia. Track Power Construction Corp here.
China Gezhouba Group Corporation葛洲坝 is a member of China Energy Engineering Group Co., Ltd. Gezhouba was founded in 2006 and is a major hydropower project contractor in China. Gezhouba is second to Sinohydro in terms of its overseas hydropower development.  It has a total hydropower capacity of 30,409 MW and 42 completed projects. Gezhouba has experienced a drop in overseas projects between 2012-2015, but has gained growth again in the last two years, thanks to projects repackaged under the Belt and Road Initiative. Gezhouba built the Zangmu dam across the Yarlung Tsangpo. You can track its notifications to the Shanghai Stock Exchange.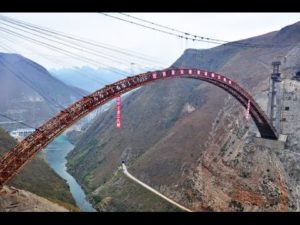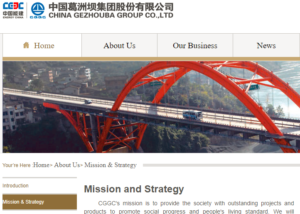 Now that all these corporate giants operate globally, and increasingly get to not only build the dams but then operate the hydropower turbines for a subsequent two or three decades, generating enormous cash flow, would any of them feel tempted by much smaller hydro projects in frigid Tibet?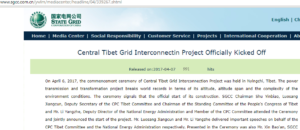 BIGGEST OF ALL: STATE GRID
Everything points to the one sure winner, guaranteed in advance by the central party-state: the State Grid Corporation. NDRC has long championed State Grid, and been criticised for being too close to the corporate colossus. Those critiques, even under Xi Jinping's centralisation of power, have sometimes been highly public, such as a televised debate in 2014 on State Grid's advocacy for its ultra-high voltage grid technology. "What is striking about the debate was not only the uncompromising positions by both supporters and opponents but also their equally critical view of the government, especially of the National Development and Reform Commission (NDRC), a powerful macroeconomic planner in China. The opponents to the projects criticized NDRC for approving them in the first place and for supporting the construction of a synchronized UHV alternating current (AC) and UHV direct current (DC) system connecting three regions at the expense of system reliability."[1]
Fortunately, we have a detailed insider analysis of State Grid Corporation 电从远方来, based on 15 years of fieldwork.[2] State Grid has been adept at positioning itself for China's post-industrial transition away from coal, towards oil, gas, hydro and now solar as alternative sources of energy, as long as there is a massive, interconnected grid to juggle them all. State Grid's slogan has been "replacing coal with electricity, replacing oil with electricity, and using electricity from afar" (以电代煤,以电代油,电从远方来). If State Grid can now electrify Tibet, and be paid handsomely to do so, it may yet get to fulfil a long-held dream of supplying electricity from Tibet to lowland China, at least in the summer.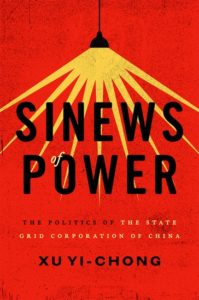 State Grid is a powerful player, yet its vision of ultra-high grids is facing new challenges. New markets, with guaranteed returns on capital, are needed. "Central SOEs can be active actors shaping these directives. They do not have an automatic right to participate in the policy-making process, nor are their interests represented automatically by government agencies, whose interests are always in conflict among themselves anyway. To get what they want, the key SOEs, as do other players, have to be proactive, proposing new ideas and initiatives, participating in policy debates, and selling their preferred policy proposals to their industry counterparts and policy makers. This is in part because the central SOEs are by and large accountable for their own performance and must operate as corporations first and foremost. To influence and shape policy making is part of the game. Consequently, economic policy making in China is no longer the result of competition among functional bureaucracies and territorial administrations, as the initial model of fragmented authoritarianism suggests. Instead, central SOEs must be treat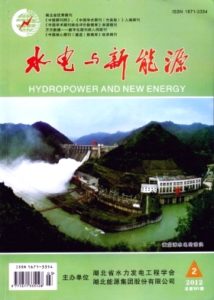 ed as independent players in a pluralized decision-making process."[3]
[1] Xu Yi-chong,  China's Giant State-Owned Enterprises as Policy Advocates: The Case of the State Grid Corporation of China, China Journal 79, 2017, 21-39
[2] Xu Yi-chong, Sinews of Power: Politics of the State Grid Corporation of China, Oxford, 2017
[3] China's Giant State-Owned Enterprises as Policy Advocates, 23