Have we all been so busy disliking Donald Trump we have failed to notice how deeply he has rattled China?
We are so sure we have it right that Trump is an idiot, a self-obsessed, clueless blunderer and serial liar, we have failed to notice China sees him very differently, and is quailing.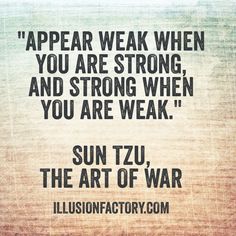 How could anybody not get that Trump crashes about, without strategy, attacking America's oldest allies, cosying up to odious dictators, trash talking everything we hold dear?  If that's what we tell ourselves, we are missing a much bigger perspective. Even if the stories we tell ourselves are true, that's not all, and the parts add up to a quite different whole. That's the conclusion reached in China, at the highest elite levels of the Communist Party and its think tanks.

What we take as Trump's erratic, unpredictable lashing out in all directions to divert attention from his mistakes and failings, China sees as a masterful tactician exerting maximum pressure to the point where no further concessions can be made, who then shifts his demands elsewhere, while declaring all is well.
BULLYING AND SWAGGER
What we take to be crude bullying, China sees as concerted bullying by a bully who is willing to take big risks, including short term losses, in order to get his way on a range of fronts, economic and military. Official China recognises that Trump's bullying can succeed, since the global economy is denominated in US dollars, and China does have to give ground. Above all, China has to stop its adolescent swagger about rising and rising. China has to stop its aggressive posturing in the South China Sea, and tack to minimise the damage. The tone of China's public face has to become bland and neutral, just like Deng Xiaoping used to urge, not brash and boastful, as it has become.
China is very used to picking its quarrels with care, to bilaterally bully smaller countries into compliance. When Norway gave Liu Xiaobo a Nobel Prize, China stopped buying Norwegian salmon as punishment. There are many such examples.
China's willingness to finance infrastructure construction in poor countries also came with a nationalistic arrogance that required Chinese workers to do the construction, Chinese finance to be repaid even if the project went sour, and ceding of sovereignty to China of troubled ports if the project went bankrupt.
China was getting a bad name, not only for theft of intellectual property but for its global buying of farmland, mines, factories and hitech; and it didn't much care. As long as those who resisted were small, or even big corporate airlines flying to Taiwan, they could be bullied, and China was enjoying throwing its weight around.
TAKING GROUND, MAKING GROUND
But facing off against the US, not just about trade but about currencies, corporate takeovers, intellectual property, hi tech plans to make national champions, and regional security, that's a lot to defend all at once. "Tactically, nearly all scholars concur with Tu's recommendation that China "seek peace through war" (以战争换和平 yi zhanzheng huan heping) in the face of pressure from the Trump administration."[1]
When Trump made North Korea the issue trumping all others, China gave ground, went along with the demand that sanctions pinching the North Korean economy be applied in earnest. Trump's bullying may not have extracted anything meaningful from Kim Jong-un, but it did make Xi Jinping yield, and then yield some more, and then more. That is what has led to this rethink, at the top.
The head of the European Council on Foreign Relations told his Financial Times readers: "In Chinese eyes, Mr Trump's response is a form of 'creative destruction'. He is systematically destroying the existing institutions — from the World Trade Organization and the North American Free Trade Agreement to Nato and the Iran nuclear deal — as a first step towards renegotiating the world order on terms more favourable to Washington. Once the order is destroyed, the Chinese elite believes, Mr Trump will move to stage two: renegotiating America's relationship with other powers. Because the US is still the most powerful country in the world, it will be able to negotiate with other countries from a position of strength if it deals with them one at a time rather than through multilateral institutions that empower the weak at the expense of the strong. My interlocutors say that Mr Trump is the US first president for more than 40 years to bash China on three fronts simultaneously: trade, military and ideology. They describe him as a master tactician, focusing on one issue at a time, and extracting as many concessions as he can.
"They speak of the skilful way Mr Trump has treated President Xi Jinping. 'Look at how he handled North Korea,' one says. 'He got Xi Jinping to agree to UN sanctions [half a dozen] times, creating an economic stranglehold on the country. China almost turned North Korea into a sworn enemy of the country.' But they also see him as a strategist, willing to declare a truce in each area when there are no more concessions to be had, and then start again with a new front. For the Chinese, even Mr Trump's sycophantic press conference with Vladimir Putin, the Russian president, in Helsinki had a strategic purpose. They see it as Henry Kissinger in reverse. In 1972, the US nudged China off the Soviet axis in order to put pressure on its real rival, the Soviet Union. Today Mr Trump is reaching out to Russia in order to isolate China. In the short term, China is talking tough in response to Mr Trump's trade assault. At the same time they are trying to develop a multiplayer front against him by reaching out to the EU, Japan and South Korea."[2]
The CCP directive to turn the boastful  volume right down was issued publicly, in early July 2018, in three sharply worded articles in the CCP official mouthpiece the People's Daily, aimed squarely at intra-party blowhards who have had free rein to throw China's weight around, including the People's Daily's own inhouse sibling, Global Times.[3] For once, this was not a secret inner party neibu directive the rest of the world only hears of much later, or never. The urgency of the situation, the size and complexity of the party-state required a public shot across the bows of the nationalist boosters, warning them to shut up.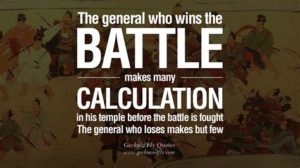 Many who do watch China may not have noticed those People's Daily diktats, which weren't translated into the English edition. Thus we may not have noticed how much China's tone has changed, the sudden absence of hubris.
That change did happen. Donald Trump is responsible.
Fortunately, we have a thorough English translation, by Geremie Barmé, at the tail end of his long post about literary allusions. People's Daily launched its sibling rivalry: "In order to set right a trend in media writing that favours exaggeration and braggadocio, one that values style over substance, while at the same time taking advantage of this moment to continue our support for writing that is 'concise, grounded and salutary' — as articulated by General Secretary Xi Jinping — we champion a vibrant writing style that celebrates shimmering clarity of expression. It is to that end, that starting today the People's Network is publishing a series of opinion pieces under the title 'Three Critiques of Writing in a Hyperbolic and Boastful Style.'"
The articles attacked: "Works written in a hyperbolic style with headlines contrived to be sensationalistic, work that presents arrant fabrication as reality, not only are a disservice to the reader, they fail the basic requirements of effective communication while at the same time polluting our media eco-system."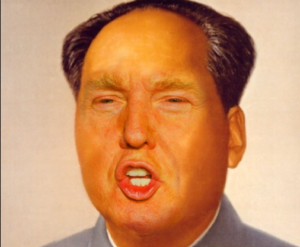 Signalling the need for a change of tone: "People must realise that such overblown writing and media reports do not add value; just because a nation trumpets its achievements does not necessarily make it strong. By flaming extreme emotions and erroneously spreading biased ideas you are doing nothing more than encouraging a false sense of reality, reinforcing among your readers purblind smugness and unsubstantiated self-aggrandisement. In fact, articles written in this hyperbolic style reveal nothing particularly new and are actually a cause for concern. For instance, some offer blatant exaggerations and make broad claims on the basis of scant evidence. They trumpet that: 'It is universally acknowledged that in such-and-such a field China has created a series of "World Firsts". They declaim: 'Don't Worry, China's real scientific and technical knowhow has already surpassed that of the USA to become Number One in the World'.  Then there are various one-sided fantasies that demand you accept their claims lock-stock-and-barrel; even though they are merely based on a few scant pieces of information from overseas they magnify reality and make such claims as: 'China is already centre stage in world affairs'; or, 'China is now the Leading Global Economy."
We could dismiss this as just a tactical shift that does nothing to deflect China from being tyrannous to its own citizens and obnoxious abroad. Yet the shift is based on a reading of President Trump as a highly recognisable type, familiar not only to China but to anyone who did an MBA in any business school. China has concluded that Trump embodies the art of war, is the ideal general who wins all his battles not by actually waging war but by bluff and bullying, by feints and manoeuvres, by exerting maximum pressure, and by knowing when to step back and declare success, before swiftly moving on the exert maximum pressure on another front.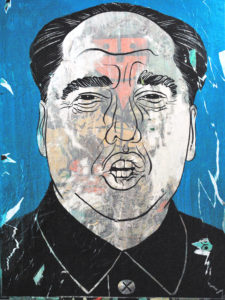 VICTORY FOR THOSE WITH KILLER INSTINCT
The same Trump we excoriate for ignorantly following his gut instinct, for not listening to advice, for scrapping the "rules-based order" is Sun Tzu's ideal type, the warrior who wins by instinct, guts, flexibility and a willingness to stage surprises.
Chinese international relations analysts:  "emphasise Trump's qualities as a strategist and a negotiator. His ability to hide his intentions and manipulate his opponents' emotions makes him a skilled negotiator, they argue. They believe that Trump's upbringing and his education at New York Military Academy have made him a strong, wilful, and efficient leader – a master strategist. His keen sense for the domestic and international political scene allows him to seize opportunities and adapt to changes."[4]
That China looks at Trump and sees Sun Tzu isn't because the party-state elite are struggling, and reaching for something familiar; it's because they see deeper than we do, that in the long run Trump really is aiming at tearing up the "rules-based order" to revert to a 1920s world where might is simply right, those with the gunboats dictate to everyone else, where the US is a mighty fortress, a new creation, a world unto itself, and it can and must dominate everyone by picking quarrels with each and all, as it chooses, in one-on-one contests the US can win. No more multilateralism, no more "rules-based order", no more diplomatic niceties, no more being world policeman.
China invested a lot in that rules-based order, profiting greatly from accession to the World Trade Organisation and the lowering of tariffs, and the relocation of entire commodity chains to China as the world's factory. China managed to still find ways of keeping US capital from dominating its industries, inventing lots of new rules and selectively applied regulations to prevent the WTO from working as intended. Having grown fast, for decades, by entering the ranks of middle income countries, China is now poised to shift much its corporate investment, and the factories and mines and agribusinesses, to poorer third world countries, all under the "rules-based order" that many anti-Trumps mourn.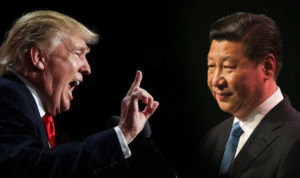 BACK TO THE FUTURE
China does not misread Trump, even if they slot him too readily into the Sun Tzu mould. China is used to playing a long game, and recognises in Trump someone who also has long standing ambitions to revert the US to 1920s isolationism, armed with such overwhelming military power it can bestride the world without boots on the ground in endless foreign wars.
Trump in fact has been remarkably consistent in his backward looking vision of great America, and consistent in blaming the multilateral architecture of "rules-based order" that the US wrote and now has to more or less abide by. Elite China rightly sees the pattern that emerges from what we see as chaotic and idiotic. Back to the gilded age, back to the Monroe doctrine, back to might is right, back to bullying, back to all relations being bilateral and thus winnable by the most powerful. Trump has been saying this for decades, to anyone who would listen.
China is listening. Are we?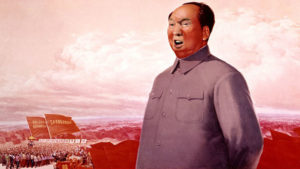 China now thinks it has Donald Trump's measure, and knows how to win this kind of war. "Generally, Chinese analysts are optimistic about Beijing's ability to manage such shifts, for three reasons. Firstly, they view China as increasingly powerful and thus able to exert its influence on US policy and Sino-American relations regardless of Washington's decisions. Wu argues that Beijing has never had greater resources and experience with which to manage its relationship with the US. Song contends that China has more "strategic determination and execution ability" than Trump's America. Ruan asserts that China should leverage these advantages to "proactively" mould the relationship. Wu agrees, adding that the relative stability of Chinese foreign policy allows Beijing to "consistently shape positive and constructive" relations with Washington. Many Chinese scholars believe that Beijing is already successfully constraining the US – as seen in, for example, the western Pacific."[5]
Are we ready for the yangsi rebirth of Sun Tzu?
If China thinks Trump is Sun Tzu reborn, it is deeply convinced it knows all about winning contestation, in the manner of Sun Tzu. It is hard baked into the DNA of the elite that this is how China got to be so great. The historical reality, of course, is that when China was strong and its neighbours weak, it attacked in full force. Tibetans know this all too well, both from the 1950s and the early 18th century. Likewise, the historians know the Sun Tzu (more properly Sunzi) war as an art is an ideal, not historic reality.[6] Sunzi himself urged fully exploiting auspicious moments of military opportunity.[7] But China prefers to believe its own myths.
[1] Tu Xinquan, "Tu Xinquan: In response to Trump's high-pressure policy, China should 'seek peace through war'", Cai­jing Magazine, 28 March 2018, http://yuanchuang.caijing.com.cn/2018/0323/4423634.shtml
[2] Mark Leonard, The Chinese are wary of Donald Trump's creative destruction, Financial Times, 24 July 2018
[4] Yin Jiwu, Zheng Jianjun, Li Hongzhou 尹继武,郑建君,李宏洲: "特朗普的政治人格特质及其政策偏好分析", 现代国际关系, 2017, 2, "Analysis of Trump's political personality traits and policy preferences", Modern International Relations, no. 2, 2017. English translation: https://www.ecfr.eu/publications/summary/China_analysis_trump_opportunity_chinese_perceptions_us_administration262   Yin is a professor at Beijing Foreign Studies University's School of International Studies, and Zheng Jianjun is an associate researcher at the Chinese Academy of Social Sciences' Institute of Political Science.
[5]  Ruan Zongze, "Trump's New Vision and China's Diplomatic Options", International Issues Research, volume 2, 2017, http://www.ciis.org.cn/gyzz/2017-03/24/con­tent_9406209.htm
Song Guoyou, "Change of Interests, Role Shifting, and Relationship Balancing – Development Trends of Trump Era US-China Relations", Contemporary International Relations, volume 8, 2017, pp. 31-36
Wu Xinbo, "The Trump Administration and Sino-US Relations Trends", New Model of China-US Major-Country Re­lationship Report, volume 19, 2017, Fudan University
[6] Alastair Iain Johnston, Cultural realism: Strategic culture and grand strategy in Chinese history, Princeton, 1995
[7] Ralph D. Sawyer, Martial Prognostication, in Nicola di Cosmo, Military Culture in Imperial China, Harvard, 2009, 54