CONFLICT MINERALS OF TIBET:
#1 IN A SERIES: GOLD
This series of blogs highlights the specific minerals extracted from the Tibetan Plateau, despite the protests of Tibetan communities determined to protect their livelihoods, sacred mountains and pilgrimage routes. This series also introduces to Tibetan readers, the new conflict minerals regulatory regime which effectively bans the entry of conflict minerals into the global commodity supply chain that ends in your hand, in your mobile phone.
 TIBETAN GOLD
Officially, there is no gold mining in central Tibet (Tibet Autonomous Region, TAR). Officially the highly destructive dredging of Tibetan rivers by small scale miners looking for flecks of alluvial gold was banned in 2005, and again in 2007. Meanwhile the large scale extraction of gold, along with copper, silver and usually molybdenum, in big underground deposits, although announced in successive Five Year Plans, has barely materialised yet, partly due to China's slowdown. There is one big exception: Gyama, upriver from Lhasa, a massive mine scaling up rapidly, thanks to finance from China's state owned banks.
So officially no gold comes from Tibet. While official statistics for Qinghai province (Amdo in Tibetan) do go into some detail about gold mining there, and gold has been found in streambeds all over Tibet for many centuries, official statistics are silent on gold from TAR. The Tibet Statistical Yearbook has for decades listed precise tonnages of chromium extracted from TAR, but is totally silent on gold.
The frequency of mining protests in many areas of Tibet is well-documented; as is the repressive heavy hand of authority. Even when protesting Tibetan communities take great care to erect Chinese style banners with pictures of Xi Jinping and quotations from his environmental speeches, protesters still get tear gassed, truncheoned, arrested, tortured and gaoled.
Perhaps the best known protests are those of the entrepreneurial brothers Karma and Rinchen Samdrup whose environmental protection protests, and subsequent gaoling is retold in an October 2015 book, an English translation of the first-hand account by journalist Liu Jianqiang. Tibetan Environmentalists in China tells many stories that make clear the swift criminalisation of Tibetans who speak out against mining, their protests instantly reframed by state power as a national security threat.
The environment movement, reporting and protesting environmental breaches, is well-established in China, and often successful; but suppressed in Tibet, subordinated to security fundamentalism. The world often hears about protests in China against mines, smelters and chemical plants, which often succeed, yet hears nothing about Tibet. This is not because all is well in Tibet, but because Tibetans have less freedom to protest, and speak up in defence of their lands and gods. Here are a few examples of what the world has barely noticed.
In Driru, a largely nomadic area north of Lhasa, Tibetan protesters tried to protect a holy mountain from mining in 2013, and were mercilessly repressed. A protest against mining in Dzogang, in eastern Tibet in 2014 resulted in at least one death. In a mining protest in Kham Yushu in 2013 armed police fired machine guns. In 2014, at the source of the Mekong River in eastern Tibet, anti-mining protesters managed to get to Beijing to remind central leaders that their county was officially a national park protected area in which mining was prohibited, and succeeded in halting the miners.
Less fortunate were the Tibetan communities of Lithang, where a large rock deposit of lithium is located, arrested en masse for protesting mining, and the gaoling of their revered lama, Tenzin Delek Rinooche, who died in prison in 2015.
The many gold extraction operations in Gansu Sangchu Tsayue prompted protests in 2014, repressed forcefully.  Near the major copper/gold/silver deposit at Shetongmon in southern Tibet a 2011 protest against mining was ruthlessly repressed.
Tibetans in remote areas are increasingly aware of national laws and policies, and not deflected from protest by assurances from miners that they have permission to mine, even in officially protected nature reserves such as Zato county, source of the Mekong. Tibetan protesters seeking to protect their sacred mountain, part of the Three River Source protected area, said they would refrain from protest only if they saw Xi Jinping on tv say the mine had permission. In Tibet Autonomous Region, small scale artisanal extraction of alluvial placer gold from river beds has been banned by official decree at least twice, in 2005 and 2007, yet continues.[1]
Tibetan communities occasionally win, when they show consistent fearlessness, even a willingness to die to protect the local gods of the mountains which have power to inflict or end droughts. In Markham, in eastern Tibet, protests against a Chinese gold mining company went on for months, with Tibetans sleeping on the road to prevent access by mining machinery, despite a massive security force arrayed against them. Not only did the mining company back down, the Tibetans insisted on commissioning an independent analysis of the toxicity of the tailings left behind by mining, rather than accept an official offer to cart the wastes all away.
GOLD, CRIME AND TERRORISM
How gold is smuggled, first out of Tibet, then out of China by the new rich transferring their wealth to safer places than China, is of great interest to police forces, attorneys-general, border security personnel, and money-laundering trackers worldwide; who understand that those with the drive and ability to smuggle gold out of China also have the capacity to smuggle drugs, ivory and even weapons and terrorist supplies. For the latest on gold smuggling and its links with terrorism, the blandly named inter-governmental Financial Action Task Force (FATF) is a surprisingly good read.
Gold is fungible, convertible, universally accepted, even in lawless areas where no one trusts anyone, gold retains its value. For example in Myanmar (Burma), Chinese loggers loot the dense forests of their most valuable trees, and pay in gold.
When gold is produced illegally, in Tibet, and never enters the chain of official statistics and monitoring, it is all the more readily available to be used illegally to buy even more profitable goods, such as drugs, rare Burmese rosewoods and teak. A 2015 investigative report by the Environment Investigations Agency says:
"From the outside looking in, the cross-border trade appears chaotic and complex. Most of the timber entering Yunnan is either cut or transported through Kachin State, a zone of conflict between ethnic political groups and the Myanmar Government and its military. Here, all sides to varying degrees profit from the logging and timber trade, from the award of rights to Chinese businesses to log whole mountains, often paid in gold bars.
"BDYA (a group of powerful Chinese loggers)  also pays off Myanmar military officials, usually in gold bars, to ensure safe passage for timber trucks moving through Government-held areas on the way to the border. Gold has become the currency of choice for larger payment in the cross-border timber trade, due to an influx of counterfeit currency being used for timber deals.
"Further payments or 'tolls' have to be made by the Chinese drivers inside Kachin at six checkpoints controlled by the BGF, KIO and Government, totalling about RMB2000 ($315) per truck. Chinese traders also claim they paved the way for the logging operation and timber transport by paying off local Myanmar military officers in gold bars."
TIBET'S CONFLICT ZONE
Tibet is a conflict zone. The illegal or semi-legal extraction of gold from Tibet has gone on for decades, without a single instance of miners negotiating, in advance, the free, informed prior consent (FPIC) of local Tibetan communities. Disempowered Tibetans have, whenever possible, protested against gold extraction, whether by small operators using dredges that destroy riverbeds and riverbanks; or large operations digging deep to extract millions of tons of rock.
Wherever gold is extracted, there is resistance. Tibetans have long understood that extraction is destructive, dangerous and contravenes local taboos on disturbing local spirits. These are not quaint prescientific folk beliefs to be swept aside. In scientific terms, Tibet is a young land, thrust into the sky by recent uplift which has brought to the surface, or at extractable depth, precious but toxic metals from deep within the planet's molten mantle.
As a geologically new land, Tibet is still rising, with all the sudden violence of a young land in formation, such as powerful earthquakes and landslides, which can block rivers, leading to disastrous outburst floods. The great rivers of Tibet, drunk daily by one billion people across Asia, naturally carry a burden of dangerous metals, as a young land starts eroding. Any further burden, from mining and its vast dumps of tailings waste, would be disastrous. Yet the gold of Tibet is found either IN riverbeds (alluvial gold) or in big deposits close to rivers, especially the Yarlung Tsangpo river, whose bed is literally the collision point of India and Eurasia.
These are scientific reasons to be extremely cautious about mining Tibet. None of this was known, in scientific categories, by Tibetan villagers and nomad encampments, yet they instinctively recoiled from mining. Usually their aversion to breaking the grasslands or digging the mountains was reinforced by local lamas urging respect for the old preBuddhist gods of earth and water, still capable of causing trouble if disturbed.
There is a remarkable congruence between sacred sites, sacred forests and mountains; and areas of high biodiversity or natural values especially worth conserving.[2]
In recent years, as extraction persists and intensifies, as TAR government bans on gold extraction are ignored, Tibetan communities have lost their fear of official repression, and spoken out, despite the risks. Even though the technologies of quelling the people are intensifying, and rapid response riot squads swoop quickly to silence Tibetans, they will not be silenced. There is no doubt that Tibetan communities consistently oppose mining.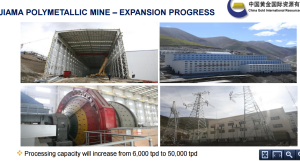 By far the biggest new mine is at Gyama, Tibet's valley of the kings, in an area even older than Lhasa as the home of the kings of Tibet who predate Buddhism. Gyama is upriver from Lhasa, on the Kyichu, the river that feeds into the great Yarlung Tsangpo after passing through Lhasa. That alone makes it an area of great historic significance, and environmentally, Lhasa's water supply come from Gyama and is compromised by any leakage from the millions of tons mined, processed and dumped annually, in the quest for gold, copper, silver and other metals.
The Gyama mine, both open pits and now underground, is owned by a Canadian company which has ignored not only  local objections, a shocking safety record, and the protests of Canadian Tibetans and their friends. Vancouver-based China Gold International (CGI) recently announced a dramatic upscaling of operations, an almost tenfold intensification of extraction, financed not by CGI's shareholders who buy and sell its shares on the Toronto Stock Exchange, but by China's big state-owned banks.
CGI has taken its time to go beyond a modest scale of operations. But in November 2015 it announced it has obtained a loan of RMB four billion, with repayments to begin only in 2019, with full repayment by 2029. The mine life has been extended to 35 years, in line with CGI's claim that the deposit is even richer than first estimates.
Even though the price of gold remains way below the long boom years of the decade to 2014, CGI is taking the gamble that by the time the greatly expanded mine is operational, the prices of gold, copper and the other metals to be smelted from Gyama ore will have risen again. That might seem a big gamble, but in reality the RMB4bn (US$672 million) is concessional finance, at low rates, from state owned policy banks that have no choice but to lend to such operators, whether they can expect profit or not. The grace period, or loan repayment holiday, from now to mid-2019, may not be attractive to the banks, but gives CGI time to gear up and start earning big bucks.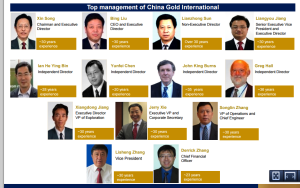 Gyama (Jiama in Chinese) is to go from blasting, digging, crushing and concentrating 6000 tons of rock per day, up to 50,000 tons per day.  This is by far the biggest extraction project in Tibet, although the Shetongmon mine, near Shigatse is similar. To extract and pulverise and chemically cook that much rock each day, year-round, requires a large immigrant workforce, a huge and reliable electricity supply, a town, and access to a railway to get the concentrate out on rail wagons to a distant smelter. Only at the smelter will the copper, gold, silver, molybdenum, lead and zinc pour off separately, as pure metals.
You can track the stock price of CGI, on both the Toronto and Hong Kong Stock Exchanges, with a click. This looks, to the average investor, like just another commodity play.  CGI's corporate PR estimates that over the life time of the mine, it will earn US$5.8 billion. CGI says its production costs are remarkably low, perhaps not surprising in a remote location where environmental regulations are seldom enforced and already dozens of Gyama workers have died in pit wall collapses.
One advantage of seeming like a normal mine is that CGI is obliged to file reports outlining its business model, in detail, and these are publicly available. CGI has an indepth report on its underground expansion plan is on its website, in compliance with regulatory requirements. This voluminous report lists cash flow, tonnages to be mined, royalties and profits for each year between now and 2050, the year the mine will be exhausted.
But Gyama is not a normal mine. It is literally the first enterprise in Tibet to make a profit for its Chinese owners, after decades of state-subsidised infrastructure construction that has only created an economy of dependence and disempowerment. Gyama will be the first profitable enterprise of central Tibet, capable of employing and sustaining a large immigrant workforce. That fulfils what China has always sought: a Tibet populated by politically reliable immigrants who will no longer need massive subsidies and official incentives to stay there. That is one reason the tax rate is so low: only 10%, a result of a special discount offered by the TAR government: "A company tax rate of 15% tax is payable on all after tax earnings, China Gold receive a 30% rebate on this tax from the Tibetan Government."
In August 2015 CGI announced that: "The 2015 gold production from the Jiama Mine is expected to be approximately 16,000 ounces." Much more is to come. CGI, at Gyama, in its Inner Mongolia mine and through acquisitions, has set itself a target of producing 500,000 ounces of gold a year.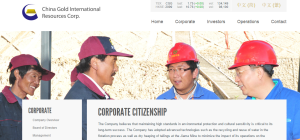 THE MINING INDUSTRY THAT DOESN'T OFFICIALLY EXIST
Statistics for the Tibet Autonomous Region don't reveal none of this. The TAR 2014 Statistical Yearbook says that in 2013, in mineraliferous TAR, there was one smelter of nonferrous metals, and one for smelting and/or rolling ferrous metals.[3] There were 44 enterprises mining and/or processing nonferrous metals, and a further 17 doing "ferrous metals mining and dressing." The total value of sales was RMB 25.55 bn for nonferrous metals (including copper, lead, zinc, molybdenum, gold and silver), a sharp increase from RMB 20.9 bn in 2012, and RMB 10.36 in 2010. In a small economy, that is a major industry rising fast. Yet, as is typical of remote locations, the "dressing" of ores is basic, concentrating the crushed rock just enough to make it economic, on heavily subsidised rail lines, to get the concentrated, "dressed" ores out to a distant smelter outside Tibet. The amount of smelter sales from Tibet is minimal: RMB 0.88 million for nonferrous metals, RMB 120 m for ferrous metals.
So what are the metals actually produced in Tibet Autonomous Region? The official statistical yearbook has a table for "Output of Main Industrial Products." The first listed is chromium ore, in 2013 133,000 tons, an amount that has not grown in years, well down on peak years of 1998 to 2004, which averaged 160,000 tons a year. After chromium, the next columns list output of electricity, cement, beer, mineral water, sowa rigpa medicines, flour, cooking oil, knitting wool, carpet and garments. No other mineral is listed. No mention of gold, copper, lead, zinc, silver, molybdenum etc. Is their production a state secret? Or is there no production, despite decades of the plans for "pillar industries?"
A few clues emerge from these statistics, which distinguish between big, state-owned enterprises and smaller ones, also often state owned, at a more local level. In keeping with China's embrace of state capitalism, all these enterprises report their assets, liabilities, taxes paid, cost of production and profitability. Of the 11 big companies in the nonferrous metals mining and dressing industry, three are loss-making; while 3 or 4 ferrous mining/dressing bigger companies are loss makers. This is not uncommon across China, where inefficient enterprises are kept going by endless bank loans from state banks, because they employ people who feel entitled to an iron rice bowl. In the nonferrous big companies their accumulated non-current liabilities have now reached RMB 4.43 bn, well above half the accumulated liabilities of all big companies in TAR. The total profits of these big mining companies was RMB 912 m in 2013, and they employed 3310 people. In the whole of TAR, mining (and quarrying) employed only 5380 people.[4] They were paid RMB 319 m in wages, or 59,300 per worker, a high wage for miners anywhere in China, but not so unusual in the state sector iron rice bowl of Tibet. They were paid more than health care workers, much more than construction workers.[5] TAR remains, on paper, a backwater, producing little, and often at a loss.
By contrast, Qinghai statistics are much more revealing. The 2014 Qinghai Statistical Yearbook is remarkably thorough in listing known mineral deposits, in fact it lists 86 different kinds of deposit, with a tonnage of "reserves" inventoried for each. This is the kind of list that makes Beijing sit up and pay attention to Qinghai, a province which, by area, is 95 per cent designated as Tibetan. The list is so thorough that rock gold, alluvial placer gold and "associated gold" are categorised separately. Qinghai is massively endowed with minerals, its 979 mining enterprises, which employ 71,825 workers, only beginning to exploit this earthly wealth.
When it comes to actual production the 2014 Qinghai Yearbook gives figures for 2013, with by far the biggest tonnage extracted being potash (kali salt) with production of 46.6 million tons. This is followed by coal (15.4 million tons) and lithium (5.7 million tons). Both potash and lithium, along with magnesium, are extracted from dry or briny salt lake beds, and are raw ingredients in a wide range of industrial uses.
Tonnages are not all that is measured in this detailed compilation, which also itemises total sales value of what was extracted, and profitability of extraction. By sales (gross industrial output value) it is the extraction of oil and natural gas, from the Tsaidam Basin of Tibet's north, that was number one, worth RMB 15.85 bn, almost half the provincial total for all minerals combined. Next in value was potash, with sales of RMB 8.8 bn; then coal, worth RMB 6.4 bn; then copper, worth RMB 1.7 bn; lead RMB 1.19bn; and lithium, RMB 1.1 bn. With the exception of much of the coal, all the rest comes from Tibetan areas of Qinghai, designated officially as areas of  autonomous Tibetan (and in some areas also Mongolian) governance. This is demonstrated by a table which divides all mineral output geographically, by prefecture. Haixi Mongolian and Tibetan Autonomous Prefecture (Tsonub in Tibetan), which includes the Tsaidam Basin, contributes by tonnage 79.7 per cent of all Qinghai mineral extraction; by total sales revenue 89.5 per cent; and by profitability RMB 7.95 bn of the total RMB 8.78 bn profits of resource extraction from the whole province, which is 90.47 per cent.
These statistics do include gold mining. Qinghai has 40 deposits of rock gold, 16 of alluvial placer gold and a further 10 of "associated gold". In 2013 the actual number of gold mining enterprises was 19, employing 1801 workers, who extracted 1.785 million tons of rock, with a sales value of RMB 1.06 bn, an amount very close to the sales of lithium, lead and iron. But no absolute amount of gold extracted is listed. What we do know, however, is that China is now the world's number one producer and consumer of gold, and a lot comes from Tibet.
The one metal that is extracted in Tibet, by all miners, big and small, over many decades, without cease, is gold. On that, the 2013 book Spoiling Tibet was on the money, emphasizing gold as the great prize China finds all over the western treasure house.
[1] Follow example set by gold mine ban, China Daily, 10 October 2005;
Xinhua, 13 June 2007
[2] Luo, Y., Liu, J., Zhang, D., 2009. Role of traditional beliefs of Baima Tibetans in biodiversity conservation in China. Forest Ecology and Management,  257, pp1995–2001.
Shengji, P., 2012. The Road to the Future? The Biocultural Values of the Holy Hills Forest of Yunnan Province, China. In: Sacred Natural Sites: Conserving Nature and Culture. Routledge, pp. 98–106.
Anderson, D.M., Salick, J., Moseley, R.K., Xiaokun, O., 2005. Conserving the sacred medicine mountains: a vegetation analysis of Tibetan sacred sites in northwest Yunnan. Biodiversity Conservation. 14, 3065–3091.
Teri D. Allendorf, Jodi S. Brandt, Jian M. Yang; Local perceptions of Tibetan village sacred forests in northwest Yunnan; Biological Conservation 169 (2014) 303–310
[3] Table 9-1, 188-9
[4] Table 3-7
[5] Table 3-10