The Tibet lithium moment
If there's one topic this blog has come back to again and again, it is lithium.
We have been told many times that, as electric vehicles become a big market, demand for this lightest of metals will boom, and Tibet is at the forefront of lithium deposits, both as brines collecting naturally on the beds of salt lakes, and as rock deposits, called spodumene.
If lithium finally booms, to power the batteries of the electric cars, does that mean extraction of Tibetan lithium will intensify? That boom has been a long time coming; lots of excited tech investors on the lookout for the next big thing may regret plunging into lithium stock too early, or too late.
During those many false dawns of the "lithium boom" there was a lot happening under the hood. Specifically, when very few car buyers showed much interest in all-electric cars, the manufacturers discovered no-one much wants a small car that putters round the city for an hour or two, then needs to be plugged in to recharge. No sir. What early adopters, trend setters, influencers want is a car that looks cool, accelerates fast, turns heads, and runs for several hours before needing to recharge. All of those premium market specs make for very heavy batteries, requiring as much as 10,000 times the amount of lithium needed to keep your mobile phone alive.
So when electric car sales do finally take off, demand for lithium will be strong. For this reason, and in keeping with China's state-directed high tech ambitions, Chinese companies are seeking to dominate lithium production not only in Tibet but worldwide.
At a time when investor interest is strong the Sichuan based Tianqi Lithium 天齐锂业股份有限公司 is emerging as the dominant player, in China and worldwide, after its audacious takeover of the biggest lithium producer in Chile, raking in its lithium from high, dry salt lakes, very similar to the main Tibetan lithium source, the salt lakes of the Amdo Tsaidam Basin.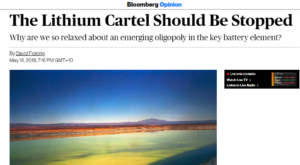 Tianqi is paying billions of dollars to buy out the Chilean lithium producer SQM, and as a result is heavily in debt, at a time when China, facing a trade war with the US, is increasingly nervous about its big corporations taking on so much debt. The party-state has stepped in and bluntly ordered some big Chinese investors (in Hollywood, for example) to pull back and pull out.
Since this promised lithium boom has taken many years to materialise, China's government isn't the only one getting a bit nervous. The price of lithium has actually fallen in 2018, not because anyone doubts the intensification of demand is at last happening, but because twitchy investors now worry that there are so many new mines and extraction projects coming into production, there could be oversupply, and they will not make the fortune they are gambling on.
If you aren't an anxious fortune hunter, the bottom line is lithium demand is now growing, and that means fresh pressure on the salt lakes of both Qinghai and the Chang Tang of far western upper Tibet, and also Tianqi's spodumene deposit, which Tulku Tenzin Delek was so concerned about, in Kham Kandze Lhagang, costing him his life after years of prison.
That's a recap of the backstory told more than once on this Rukor blog.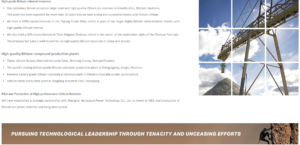 NOW READ ON….
What is truly new, making this moment actionable for Tibetans and their friends, is that China's biggest lithium producers in China and around the world have judged this to be the time to launch their IPO listing, selling shares to investors in the hope of reducing that debt, raising capital, spreading the risk.
When a company launches its IPO it is acutely vulnerable to getting a bad reputation. If investors decide a particular stock is radioactive, stay away at all costs, the hoped-for share price tanks, the float raises only a fraction of what the owners hoped for, and everyone learns a hard lesson. This can make a difference of billions of dollars. It puts Tibet back on the map.
This is also a moment in which, in keeping with stock exchange rules, the company floating its shares is obliged to issue a comprehensive prospectus, informing investors of all the risks they are taking. This is an unparalleled moment of compulsory disclosure, and in the case of Tianqi Lithium's prospectus, the downloadble disclosure document is hundreds of pages long, giving us insight into their assets and plans, so much so that we can usefully mine the disclosures of this miner.
New data on what is happening in Tibet
We learn a lot from this pitch to investors, more than is usually available to Tibetans, who are never consulted about mining their lands, and figure only fleetingly in the 690 pages of data Tianqi has disclosed to the Hong Kong Stock exchange (which also owns the venerable London Metals Exchange). Despite the absence of the Tibetans of Kham Kandze Lhagang from the Tianqi prospectus, Tibet is far from absent.
What Tianqi brings to the market is two spodumene lithium deposits, one in Western Australia, well south of the city of Perth, the other in Kandze. A third deposit, not rock lithium but a remote briny salt lake in Tibet, is also partly owned by Tianqi but does not feature much in Tianqi's declared plans.
Tianqi's two prized assets, the active Greenbushes mine in Australia and the proposed mine at Kandze Lhagang (Jiajika) emerge, in Tianqi's voluminous documentation, in contrasting ways.
First (p.157) is Tianqi's map of where its' Tibetan lithium deposit is: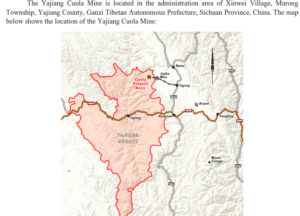 Tianqi (pages 438 and 519) describes its ownership of this Tibetan lithium deposit, in a district of Kandze Lhagang where there are other lithium deposits, owned and extracted by other companies, causing much distress to the Tibetan community. Rukor published photos of those mines in 2017.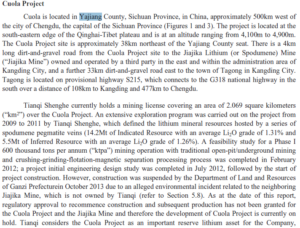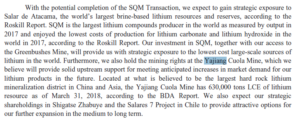 Since Tibetans find industrial scale mining so distressing and offensive, surely Tianqi, as part of due diligence and full disclosure, must name Tibetan opposition as a risk factor? The Tianqi prospectus devotes no less than 43 pages to itemising all the risks investors are taking when they buy Tianqi shares, yet the grief of the Tibetans of Lhagang is nowhere mentioned.
However, Tianqi does name other risks, and that's where its' two spodumene lithium deposits, in Australia and Tibet, geologically similar but worlds apart socially, reveal sharp contrasts. Tianqi warns investors that Aboriginal native title holders have outstanding claims to the Greenbushes mine, which are yet to be resolved. There is no such mention of indigenous Tibetan claims.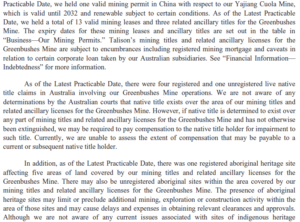 Then there's a minor problem with environmental compliance, which has halted lithium extraction in Kandze Lhagang for years, although Tianqi insists it is all to do with a competing miner, not them:

Then there is the very issue that most distresses Tibetans: the toxic chemicals and buried heavy metals exposed by mining and the processing of the ores: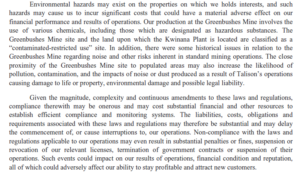 Finally, there is the danger of ice storms and terrorist attacks, probably not in West Australia, so maybe this is an indirect reference to Tibet?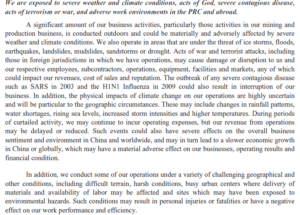 On top of all this, there is Tianqi's part ownership of Drangyer Tsaka, a salt lake with an extraordinary concentration of lithium salts, in the far west of upper Tibet, technically part of Shigatse prefecture, but so remote there is little incentive to fully industrialise lithium extraction when the Tsaidam Basin in Amdo is much more convenient, and China now has ample access to lithium from Chile, Australia and around the world. Nonetheless Tianqi does boast of its stake in Drangyer Tsaka (Zabuye in Chinese), not surprising because other stakeholders include the battery maker-cum-car manufacturer BYD and the canny Warren Buffett, who knows a winner ahead of the pack. See Warren Buffett in action, and yes, that's Bill Gates with him.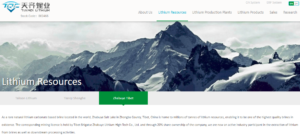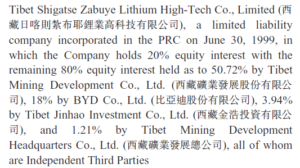 As a result, we now have financials on Zabuye for the first time: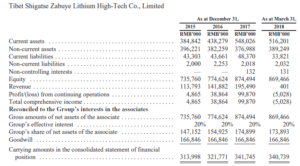 So is there anything Tibetans can do? All too often, as threats to the land and people of Tibet arise, Tibetans look on, unable to intervene effectively. That's why an IPO is a special moment. Both Tianqi and its financial adviser, Morgan Stanley, have a lot at stake, at a time when reputation is everything. Morgan Stanley's reputation was tarnished by its role in causing the global financial crisis a decade ago, resulting in a penalty payment of over # billion paid to regulators in 2016.
HOLDING CHINA'S MINERS ACCOUNTABLE
The protests in Kandze, including many self-immolations, were unable to halt the exploitation of Tibetan minerals. It is not often that Tibetans have real leverage, and opportunity to hold mining companies accountable. Such a moment has now arrived.
This is where another backstory comes in. Way back in 1999 the police procedural drama Law & Order: Special Victims Unit aired a thriller in which Tibetan activists persuaded American investors not to put their money into an IPO float of a Chinese state-owned oil company, with oil fields in Tibet, seeking to list shares on the NY Stock Exchange. The result of this short, focussed, professional advocacy was that investors stayed away from the stock offering, its price sank, the company raised many billions of dollars less than they hoped, and China decided it's just too damn difficult raising capital in the US.
What is truly remarkable about this almost forgotten ep from two decades ago is that it's true. It actually happened. The company was China National Petroleum Corporation (CNPC). Tibetans seized the moment of opportunity, wrote to potential investors warning them stockholders would face a divestment campaign by Tibetans that would drive down share prices, so better not get in, in the first place. It worked. CNPC lost billions.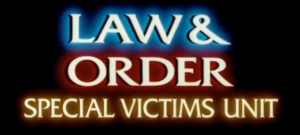 The Law & Order script writers did take a few liberties to make it more dramatic. On TV the Tibetan activist who triggered the IPO collapse was a young Tibetan woman, murdered by China in revenge. In reality, this whole story was discovered, written up and pitched to Tibetans in DC by some old geezer in Australia, not even a Tibetan.
Seldom do Tibetans have opportunity to ride the dynamics of global capitalism to make a difference, in the lives of Tibetans in Kham Kandze. It can be done. Watch that old Law & Order ep for yourself, be inspired. This is the moment.
What is took, over 20 years ago, to hold CNPC accountable was one carefully crafted lawyers letter to prospective investors, and a brief alliance between Tibetans and what today would be called the Trump evangelical base, whose concern over CNPC was its involvement in war in oil-rich Sudan, costing many Christian lives.
The DC based Tibetans assessed the controversial IPO was pitching not for day traders, short term investors, but for long term investors looking for reliable returns from a big corporation sure to deliver. The letter they wrote was shaped by that astute judgement. It was pitched at professional fund managers, in the superannuation insurance industry, who manage the accumulated savings of others on a big scale.
Those professionals have an obligation to invest wisely, not in volatile stocks likely to fall as well as rise. By warning them in advance that the IPO was controversial, and stockholders would be under pressure to sell, to free themselves of taint, there would be more sellers than buyers, and the price would fall, and those professional managers would be blamed, by everyone who lost money on their bad decision to buy in the first place. better not to buy at all, just let this IPO go.
In its 43 pages of listed risks, Tianqi nowhere mentions those Tibetans, despite its obligation to disclose to potential investors all foreseeable risks. This is the moment of transparency to make Tibetan concerns heard.
NOT ONLY
In this lithium boomtime moment, Tianqi Lithium is not the only Chinese lithium miner to launch an IPO in the hope of raising one billion dollars from investors wanting a slice of the action, in the expectation of big profits ahead.
The other company, also floating its shares on the Hong Kong Stock Exchange, is Ganfeng, and its prospectus is similarly full of useful disclosures. Such moments of transparency are rare for Chinese mining companies, on their march to global domination of lithium supply.
Ganfeng is of less immediate concern to Tibetans in that it has its lithium deposits and mines around the world, and in coastal China, but not in Tibet. Not yet. In May 2018 it hedged its bets by buying Qinghai Liangcheng, with access to the salt lakes of Qinghai Tsaidam, not for immediate exploitation but for the day, as demand accelerates, when technologies of separation of salts keeps pace with demand.
The Ganfeng prospectus reveals why Chinese lithium miners, Tianqi and Ganfeng included, are buying lithium deposits in south America, Canada, Australia, as well as Tibet, despite the abundance of lithium in the Tsaidam salt lakes.
It's all to do with purity. There are many metals mixed together in the Tibetan salt lakes, mainly magnesium, potassium, lithium and sodium salts. Traditional uses for lithium did not require absolute separation, but lithium batteries do, especially if they are to discharge energy quickly while driving a heavy electric car, then recharge quickly. As electric cars have gone upmarket, the level of purity of lithium required has gone up. The biggest fear is fire, of an overheating battery struggling with impurities bursting into flame.
Is it this tech glitch that at the moment saves Tibetan salt lake lithium from intensive exploitation? If so, that protection may not last. So the last word goes to Ganfeng (p.92) from their IPO prospectus: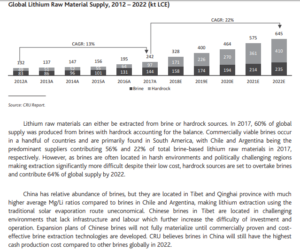 As China, and its lithium corporations, are close to their goal of global domination of supply, their current pattern of buying lithium deposits around the world may yet swing back to Tibet, if the demand forecast above, with a CAGR (compound annual growth rate) forecast from Ganfeng, happens.
Ganfeng may have little need of Tibetan lithium right now, and Tianqi may for some time rely mostly on West Australia, but the boom has finally arrived, demand is accelerating, and the Tibetan salt lakes, long a source of magnesium, sodium and potassium (potash) salts for Chinese industry, may also be exploited profitably for lithium.