NATIONAL PARKS & SKIING THE EMPEROR'S HUNTING GROUND
When China was conquered by the Mongols, areas north of the Great Wall, close to Mongolia, were  declared imperial hunting grounds, where the new emperors of China could exercise their Mongolian passions for open space, especially  hunting. While, in order to rule, the ruling Mongols adopted many Chinese ways, they insisted on opportunities to perform their Mongolness as well. The mountains and pastures beyond Beijing served this purpose, and later emperors perpetuated this special zone as a space for manifesting imperial benevolence towards the Buddhist Mongols and Tibetans, by building elaborate scaled-down replicas of the greatest Tibetan and Mongol architecture, including a replica of the Potala of Lhasa.
Those imperial tributes to Tibetan and Mongolian difference stand today, in Chengde, in Hebei province, to the northeast of Beijing. To Beijing's northwest, and due west from Chengde, is Zhangjiakou, with the small town of Chongli, with Yanqing Songshan National Forest Park protecting the greatest mountain close to Beijing, Yunzhou Reservoir to impound water from the mountains, lots of pasture for sheep, and a little snow.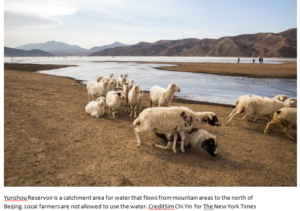 This district of sheep herders has been chosen as the venue for staging Beijing's double fortune, having already staged the 2008 Summer Olympics, of now hosting the 2022 Winter Olympics in these mountains. The Yanqing Songshan National Forest Park has to make way for the ski runs, the forest replaced by not only ski trails but the full apparatus of a modern ski industry, with lifts, luxury resorts, helicopter landing pads, roads and the smart folks.
The preparations for 2022, already fully evident in 2018, show how little China cares about national parks when profit and national glory beckon. It is this combination of wealth creation and nation-building pride that sealed the fate of the national park, that and its convenient proximity to Beijing. The cosy partnership of China's private corporate resort builders, spectacular event staging managers, and a party-state determined to provide nationalist spectacles, ensure massive investment.
That this district naturally has little snow, that most precipitation falls as rain in summer, not snow in winter, doesn't matter: technology can take care of that. That a national park intended to cherish mountain habitat within reach of the capital now has to become ski runs, doesn't matter. There are plenty of other mountains, even if they are not designated as national parks.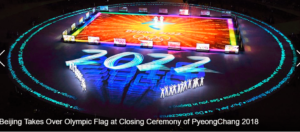 The public private partnership has in fact invented a new human need for China, no small achievement. Unlike the Nordic countries which dominate the Winter Olympics, China has never had a ski culture, or seen snow sports as essential to national identity. Now it does, and the central plan is for China to dominate the medal count in 2022, as well as boasting the best of facilities. Thus it has become a patriotic duty for Chinese citizens, those who can afford it, to become skiers, to patronise the slopes, and contribute to China's great rejuvenation. Journalists visiting the new snowfields now interview skiers who announce they are doing it for patriotic purposes.
Inventing a new human need, a need no-one thought about until a new product to fulfil that need was marketed, has long been cited as the genius of capitalism. China has taken this a step further, with all the persuasive power of the party-state's propaganda apparatus to make it not only an elite consumer preference but a patriotic display, to take to the ski slopes. The combination of hotel owners promoting their hotels, and party media extolling the virtues of nationalism on skis is already creating momentum, as well as a vast capital expenditure.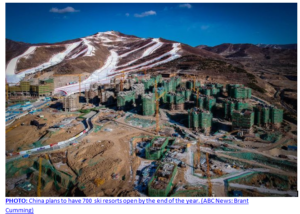 China is proud of achieving in years what took Europe centuries. The public private partnership, both in financing construction, and in generating demand, is the key. The party-state well understands the long history, in both summer and even more in winter Olympic venues, of the big event coming and passing, then the expensive facilities largely lie idle, under-used, a costly embarrassment. The preplanned answer is to make skiing an ongoing industry, with deeprooted demand as a way of patriotically displaying wealth and privilege.
"When the International Olympic Committee awarded the 2022 Winter Olympics to Beijing, environmentalists were aghast. Not only would the city's dwindling water supplies be further diminished to produce snow, it later emerged that some of the ski slopes to be built for the games would be carved through a nature preserve, a precedent that bodes ill for the integrity of China's other natural parks.  But water scarcity and nature are no obstacles in a planned economy.
"President Xi Jinping is now adding his clout to China's leap into skiing, leading efforts to create a domestic ski industry almost from scratch to ensure that the billions invested in the games do not end up creating white elephants. Beijing is ploughing Rmb76bn ($11bn) into the massive redevelopment of Chongli, the winter sports town about four hours' drive away that will host most of the Olympic skiing events. The government is seeking to make Chongli the centre of a full-blown domestic ski industry to rival the best in Europe or North America, even though annual snowfall in the area is no more than 70cm.
"'The Winter Olympics isn't the end goal,' says Benny Wu, chief strategy officer for skiing at Vanke, another of the developers at Chongli. 'By prompting Chinese to take up skiing it will be a driver for the winter sports industry.' China has targeted 1,000 ski resorts by 2030, almost double the number today. The China D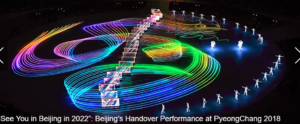 aily reported this month that the Olympics would help China reach its target of 300m skiers by 2030, up from about 5m today.. 'We're doing the best we can,' one instructor explained as his five-year-old pupil threw off her skis and began building a snowman. 'Chairman Xi cares so much about the Winter Olympics. We can't let him lose face.'"[1]
"By the year's end China will have 700 ski resorts — more than all of Europe — and they are developing young talent to ensure a swag of medals. The site of the next Winter Olympics at Chongli, almost a four-hour drive north of Beijing, already has top notch resorts to rival the best in Europe and America. In just two decades China has built 646 resorts and is targeting to have 1,000 by the time the Olympics begin in February 2022. The new resort of Fulong in Chongli has just opened at a cost of $5 billion. Its 37 ski runs seem to be well organised and Chinese skiers, mainly from Beijing, are flocking to the site. At the top of one of the runs one young woman with skis in hand says 'skiing is the thing to do — it's cool and fashionable and good exercise'. Mengying Wen, a national mogul champion and Olympic hopeful for 2022, says the sheer weight of numbers and money will ensure China gets a swag of medals. 'China will win many medals, specially in ski trick and ski jump. There are new training programs across China at all levels and in all areas. It will get better and better,' she said. Skiing is heavily promoted in schools around China."[2]
Before the state-sponsored ski boom took off, journalists coming to this quiet district found sheep herders and farmers longing for access to the dammed waters channelling past them, to which they have no entitlement. The New York Times reported in 2015: "Yanqing Songshan National Forest Park, which has the only substantial mountain near Beijing, was chosen for Alpine skiing, which requires longer runs and steeper descents. Yanqing has no existing ski slopes. Studies show that ski runs increase erosion and destroy plant life beyond simply the growth that is cut down; they can also cause permanent damage to topsoil and plants beneath the surface. Artificial snow worsens this problem because it often creates an ice sheet over the ground, leading to the growth of mold underneath."[3]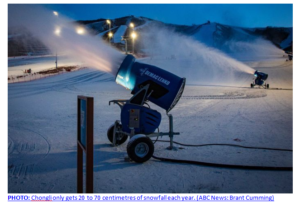 Three hundred million Chinese skiers?   Where will they all go to ski? Is it possible that "the land of snows" (a classic Tibetan self-definition of Tibet) will one day see some of those planned one thousand ski resorts catering to 300 million ski enthusiasts?
Right now, Tibet is too far, infrastructure too basic, and slopes much closer to Beijing are the focus. But if China's unique authoritarian state capitalism succeeds in persuading, incentivising, subsiding and propagandising 300m people onto skis, the day will come when the fun palace of modernity reaches even Tibet.
In September 2017 China announced a new national park system, to be launched in 2020, with four of the first batch in China's new national parks to be wholly or partly in Tibet. This should be good news, but is it? What do those new national parks announced for Tibet actually mean for local Tibetan communities? Will they become the stewards, wardens, park rangers and cultural interpretation specialists in these new national parks, or will they be excluded, in the name of zoning red lines, ecological necessity and even poverty alleviation.
Coming up shortly on www.rukor.org: a series of blogs analysing in depth  each of the new national parks in Tibet; impacts, opportunities and dangers.
[1] Lucy Hornby, China's Xi launches great jump forward into skiing: Snow sports enthusiasts needed to fill resorts after 2022 Winter Olympics , Financial Times, MARCH 4, 2017  https://www.ft.com/content/0b1923fe-ffef-11e6-96f8-3700c5664d30
2] Matthew Carney, China to have more ski resorts than Europe ahead of 2022 Winter Olympics, Australian Broadcasting Corporation, 25 Feb 2018 http://www.abc.net.au/news/2018-02-25/ski-boom-in-china-ahead-of-next-winter-olympics/9475468
[3] IAN JOHNSON, Scientists Question Environmental Impact of China's Winter Olympics Bid, New York Times, APRIL 9, 2015